Because it has been more than a month since we have been back to business (however, it has never been 100% on hold for us), we came back with an article to present you our latest work. Even if the pandemic has took us by surprise, we have gathered all our thoughts and, as we strongly believe, we came up with a clearer vision about everything.
In this sense:
1. We have personalized paper cups. As a fact, you are already familiar with this. We have been happy to see that old and new clients have contacted us in all this period. With this occasion, we want to present you the latest paper cups that we have created.
2.We have launched new products. If you haven't heard of our Coffee Holders, please take an eye on our article: https://paharcarton.ro/suporti-pahare-carton/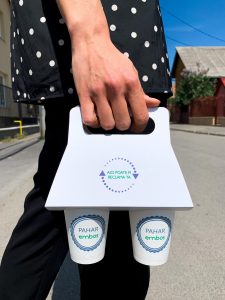 3. Our own paper cups have been appreciated more than ever. If you do not have a specific design, we strongly recommend you to try out our general pattern paper cups!
They can be used as a sampling. You have many options available, at different dimensions.
These being said, stay close, we are up to something special!